G'day! My name is Gemma Nicol, I'm 15 years old and an exchange student from Australia's East Coast. I will first present a little about myself and where I'm from before moving onto Australia in general.
I'm sponsored by Agnes Waters Discovery Coast Rotary of district 9570. My sponsor rotary club is fairly new, only being chartered in 2016 so I am honoured to be the first ever exchange student they have sent out. Before deciding to send/host exchange students their main focus was on the Discovery Coast markets where they raised money for various charities such as Shelterbox. The pictures on the left show me getting Finnish lessons from a native Finn in my Australian Rotary club, a few of the members in my club as well as myself preparing survival kits for domestic abuse victims and our Discovery Coast markets.
https://www.facebook.com/Discovery.Coast.Rotary/
So where am I from in Australia? I'm from a very small town called Lowmead in Queensland with a population of just 200. Lowmead is a majority farming and mining community and just has a primary school, pub and post office. Because of this I have to take a bus to a school 25km away every day.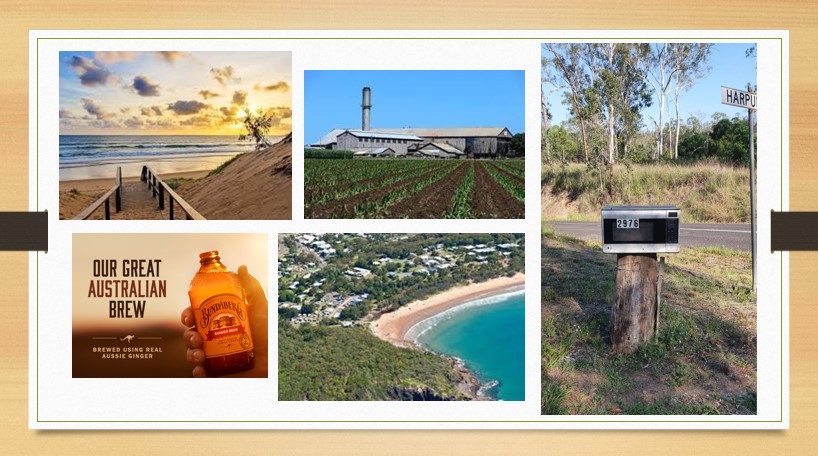 We are 50km from the coast and our closest town is Bundaberg, known for in Australia for its cane farms and sugar production, as well as being home to Bundaberg Brewery, known worldwide mainly for its ginger beer.
I come from a family of 6, consisting of my parents, my 28-year-old sister Samantha, my 19-year-old brother Angus, my 6-year-old brother Callan and of course me. My mum works at the local primary school as a teacher aide and my dad doesn't work. My youngest brother has autism so my dad looks after him and takes him to his therapies in town. Having a sibling with Autism can be hard at times and a lot of work but it has definitely made me more resilient and more accepting of other people's differences. My older brother has just joined the army this year, which is a choice in Australia rather than a requirement. Although we live in country Australia, we don't own a farm as many of my friends do. From left to right, my cat Alex, my parents and youngest brother, my older sister, my older brother, our house and finally our dog Dotti.
Some of my hobbies include playing soccer and playing music. I am passionate about the performing arts and also enjoy adrenaline inducing activities like rock-climbing, cycling and running. My school's soccer team is shown on the top left, where I am pictured far left and below that is a picture of the school band, where I am pictured in the centre. My favourite school subjects are drama, digital technology and science so I'd love to follow a career in one of those fields, however I haven't decided yet.
I go to school in Australia at Rosedale State School. It's a school of 250 students ranging from preschool education to the last year of high school, year 12. Schooling in Australia is very different to here in Finland. In Australia we have to pack our own lunch every day as there is no school lunch meals. I love this about Finnish schools because many students in Australia just go without food so it's great that here every student gets an equal meal.
We also don't have freedom to come and go as we please, like students in Finland do. Every student from 1st to 12th grade has to go to school at 8:30am and leave at 3pm every day. We cannot leave within those times and we also can't show up before 8:00am or leave later than 3:30pm.
We have to wear a school uniform every day. We have multiple different uniforms, we have the main every day school uniform, as well as a formal, sport, hospitality and army cadets uniform. In most Australian high schools, you are offered the chance to join the Australian army cadets through school and participate in camps, training and just a basic introduction to army life. These are essential because unlike in Finland, men don't have to join the army so these programs show what Australia's military is all about before students can decide if that's something they want to pursue.
Our schools are also structured differently. Our schools are built much more openly because of our hot environment, so everything is spaced out and only our classrooms are inside. Everything else, including our hallways, eating areas and assembly area are outdoors. Even our sports hall is outdoors, we have two football fields at my school and an outdoor concrete basketball court.
A little history on Australia, in the year 40,000BC the original owners of the land, our indigenous aboriginal and Torres Strait islander Australians first crossed over from Southeast Asia, and then in 1770 Captain Cook arrived with his crew and claimed the country for Britain. Britain sent their first fleet of convicts over in 1788 and they formed our first colonies and settlements, which have since became our 6 states, Queensland, New South Wales, Victoria, South Australia, Western Australia and Tasmania.
An abundance of gold was found in Victoria which led to the gold rush of the 1850's bringing in millions of immigrants, and contributing widely to us becoming one of the world's most multicultural nations even today. In 1901 a Federation happened and we became our own nation, Australia now under our own government but we still to this day fall under the Queen of England's rule.
These emblems are all inherently Australian and they are all an integral part of our culture. We have three official flags in Australia, our country flag, and the two flags representing our indigenous Australians, the Aboriginal flag and the Torres Strait Islander Flag. The Australian coat of arms there has our national animals, the kangaroo and the emu, and those animals were chosen as they are physically unable to move backwards, representing our always moving forward nation. The symbols inside the coat of arms represent each of our 6 states. The Queensland coat of arms represents our agricultural identity and features a brolga, one of QLDs native birds and a red deer, an animal in QLD introduced from England.
There's also of course the iconic Sydney Harbour Bridge and Sydney Opera House. Uluru, the giant red rock in the middle of the country, which is considered sacred to our Aboriginal Australians, a boomerang, which is an aboriginal invention used for hunting, a BBQ or barbie as we say in Australian English, our signature footwear thongs and of course the delicious Aussie sandwich spread everybody else loves to hate, vegemite.
Our first Australians were the Aboriginal and Torres Strait Islander peoples. These are their respective flags and some important things from their culture. As I mentioned earlier boomerangs are an indigenous Australian invention and are known world-wide for their signature curved shape. Dot painting is another thing our indigenous Australians are known for, rather than writing they conveyed stories through these dot paintings and they did this by making paint out of things like red and white ochre and different Australian plants. They believed the land and nature were sacred and so did everything they could as to respect the land and not leave anything behind.
This slide is all about our Australian food. One of my favourite Australian foods is the lamington cake, pictured first on the left and named after Lord Lamington from my state Queensland. It is a soft sponge cake coated in chocolate and coconut. I taught my first host sister Jenny how to make them, as seen second from the left. Our most well-known food of choice has to be vegemite, and as I said earlier the Australian spread everyone else loves to hate. It's made from yeast, vegetables and spices and is high in vitamins and nutrients. It is eaten on bread with butter. Personally, I love it but I am yet to meet a Finn who does. Other notable Aussie foods include Tim Tams, which are a chocolate biscuit with chocolate filling and coated with milk chocolate, Milo which is a little like hot chocolate but much more healthy and fairy bread, which is really popular at children's events/parties as it is easy to make, just bread, butter and sprinkles, and is appealing to children.
Because it's a continent, Australia has vastly different geography all throughout the country. It has a population of just 24.6million for its 7.692million km2. That's 20 times the size of Finland. We have 8 states and territories in mainland Australia and these are Queensland, New South Wales, Victoria, Tasmania, South Australia, Western Australia, the Northern Territory and the Australian Capital Territory. It is the world's 6th largest country and has everything from beautiful beaches to tropical rainforests, deserts and even snowy alps.
In the North East we have tropical rainforests and grasslands to the central North. We have bushland covering most of the east and south and desert covers the majority of central and west Australia. Not only that but Australia even has a real winter in the South and snowy alps where you can go skiing and snowboarding, and if you're lucky you can even see the Southern Lights in the Southernmost parts of Australia during winter.
In Australia we don't have winter, spring, summer and autumn. We just have two seasons, the wet season and the dry season. Usually the wet season is from October to February and the dry season from March to September however for the last few years we have been in a serious drought affecting the whole country and leading to the December/January bushfires where I and many other Australians were evacuated from our homes. Lucky for me my home survived but others have not been so lucky. Normally we'd be having cyclones and flooding rains in Queensland at that time of year, as shown by the other pictures on this slide, and sometimes the water would rise up over the roads and we'd be trapped at home for anywhere from a few days to a few weeks.
Australia has arguably the most unique flora and fauna in the world. The pictures on the first slide have been taken in my area. First from the left is a picture of me holding a joey, which is a baby kangaroo. Where I'm from we have small grey kangaroos but towards the west and south you can find much bigger, much more dangerous kangaroos. We also have an abundance of reptiles and bugs, also shown on this slide is an Australian water dragon, a baby python I rescued from my chicken pen, and a huntsman spider. Huntsman spiders look scary but are actually safe and don't hurt people, and they also kill mosquitoes and flies.
These other animals haven't been taken from my area and are a little more dangerous. Top from left is a Platypus, found in billabongs, lakes and other fresh water sources in Australia, they have a poisonous scratch and although it isn't deadly it is extremely painful. Below that are dingoes, we have a lot of them in Queensland although they are more active at night. They are our native wild dogs. Next one below that is a crocodile. Crocodiles are fairly dangerous if you get into their territory, however if you keep your distance you will be just fine.
In the middle there is shown a blue ringed octopus found in both the Indian and Pacific oceans around Australia and is highly poisonous if handled incorrectly to humans and beneath it is a stone fish found in many beaches around Australia and is also highly poisonous and potentially lethal.
On the top right is shown an emu, our most famous large bird and also shown on our coat of arms. However, the bird beneath it is a cassowary, native to Northern Queensland and is the world's most dangerous bird, being highly aggressive and reaching up to 2 metres tall. Lastly Australian beaches are known to have sharks, and on the bottom right is a great white. I have only seen sharks at beaches twice in my life and generally what happens is it gets reported and the beach is evacuated until the shark leaves.
In Australia we celebrate many things much different to the rest of the world. In Easter time we do not celebrate the Easter bunny as rabbits are an introduced species and a pest in Australia. Rather Australian children look up to the Easter Bilby, as pictured on the bottom left. Bilby's are a small marsupial native to our wildlife but they are endangered. Another Easter tradition we have is that every year we bake hot cross buns, which taste a little like Finnish Pulla but usually baked with fruit and these represent the crucifixion of Jesus, where the Easter tradition comes from.
We also celebrate Christmas much differently, as Christmas falls right in the middle of our summer. Instead of a white Christmas we celebrate Christmas with surfing and barbeques on the beach. Around this time of year, the temperature outside often times reaches 40°C and in a heatwave sometimes up to 50°C.
Australia day falls on January 26th and is a way for us to celebrate being Australian. The Australian of the year awards are presented the day before and then on Australia day we celebrate our citizenship with a variety of events, including cane toad and cockroach races, thong throwing competitions and of course barbeques with bonfires. It is also known as invasion day as it was the day that the first fleet landed in Port Jackson, NSW and the day that Britain claimed the land for their own, disregarding the indigenous populations that already lived here.
On the 25th April 1915 Australian and New Zealander soldiers landed in Gallipoli, Turkey during world war two but the landing ultimately failed and led to thousands of casualties on both sides dragged out over 8months. Although it was a total military failure Gallipoli transformed Australia and became an important part of our identity. Every year on April 25th since then Australia and New Zealand celebrate ANZAC day, ANZAC standing for Australia and New Zealand Army Corps with a public holiday. Almost every town has a dawn service and we all get up at dawn and pay our respects to fallen soldiers from each and every war we have battled in.
This is my Australia!