With the historic decision of the general spring meeting on 10 June 2020, we launched the establishment of the Tampere-Lielahti Health and Environment satellite club.
Firstly, the meeting of the Rotary Club association of Tampere-Lielahti decided on a rule change that would allow the establishment of satellites: "In order to achieve its purpose, the club organizes meetings, presentations and discussion events, seminars, banquets and other similar events, and maintains contact with the Association of Finnish Rotary Service Association – Finlands Rotaryservice rf, Rotary districts, other Rotary clubs around the world, and its central organisation called Rotary International and its regional organisations. In order to achieve Rotary's objectives, the club, implemented by its Board of Directors, can set up separate institutions, such as satellite clubs, which operate under the auspices of the mentor club (eng. sponsor club RI). The establishment of separate institutions shall be decided by a meeting of the Association.'
After the meeting, the application for the establishment signed by the undersigned (president) and secretary Kimmo Liuhtonen was sent to Zurich!
The announcement of the club's chartering or registration came from Rotary International contact Sari Miettinen in Zurich: "Congratulations on the creation of the Rotary Satellite Club of Tampere-Lielahti Health and Environment, Finland, which will be officially registered on 22 June 2020!"
With the establishment of the satellite club, our membership grew by just over ten, with about 9 new rotaries in the Tampere region. This is also how RK Tampere-Lielahti achieved the membership targets it had set! Great performance! New candidates are already known.
The Satellite Club is the only one of its kind in the Nordic countries.
Thank you and credit to the founding members and especially to the experienced rotaries Sivert Westegård and Arja Ranta-aho , who will take over as chairman and secretary of the satellite club – who made a significant contribution to the preparations!
Nice and sunny summer for everyone!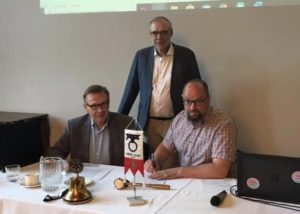 RK Tampere-Lielahti
President 2019/2020
Mika Kierikka